Local SEO Audit: The Completed Guide 2023
In today's digital age, having a strong online presence is crucial for businesses of all sizes. This is where Local SEO comes into play, a powerful practice that can help businesses enhance their visibility in local search results, attract more local customers, and ultimately boost their bottom line. A local SEO audit is an invaluable step in this process.
What Is Local SEO?
Local SEO, or Local Search Engine Optimization, is a digital marketing strategy aimed at improving the visibility of a business or organization in local search results on search engines like Google, Bing, and Yahoo.
The primary goal of local SEO is to ensure that when people in a specific geographic area search for products, services, or information related to a particular location, they find relevant businesses or entities nearby.
Local SEO is especially important for businesses with physical locations or those serving specific geographic areas. It helps them connect with local customers, drive foot traffic to brick-and-mortar stores, and ultimately increase their online and offline visibility.
Why Do You Need A Local SEO Audit?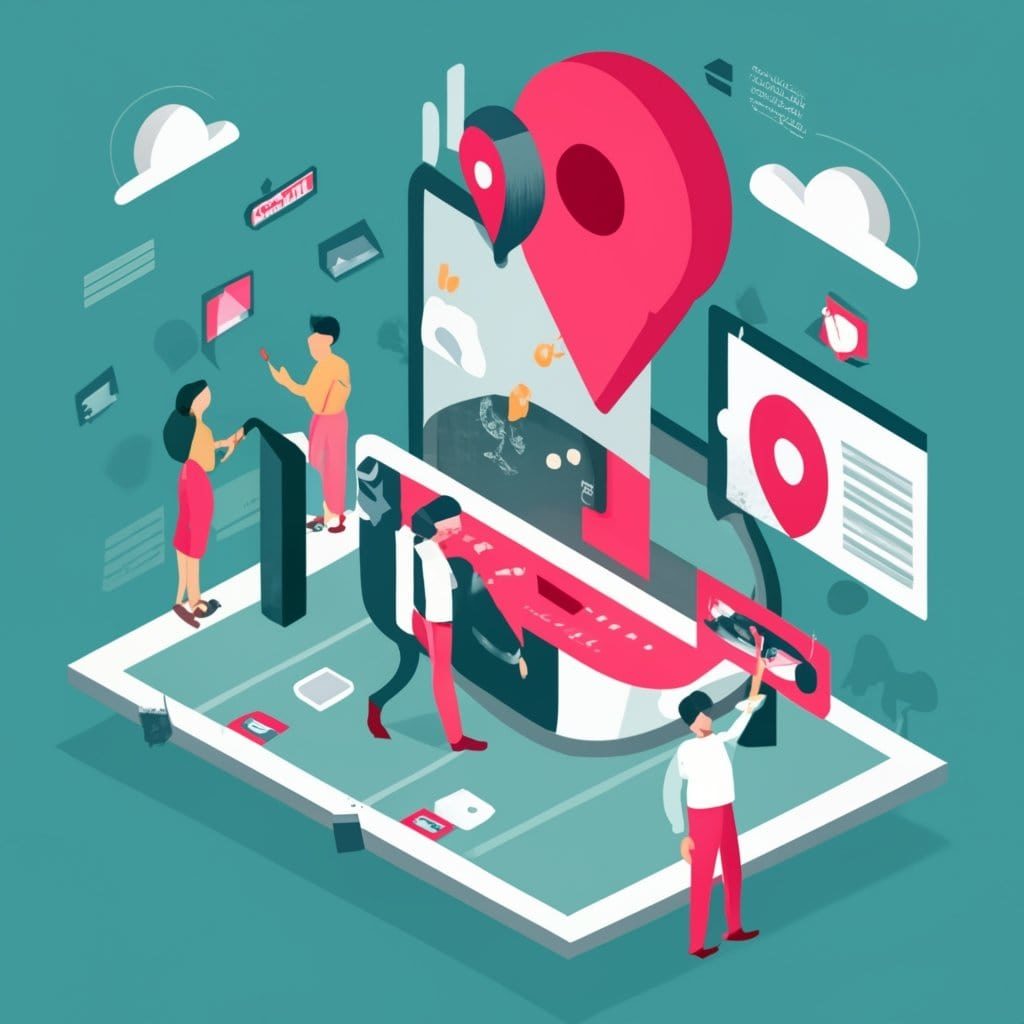 A local SEO audit is a process of evaluating and analyzing the online presence and search engine optimization (SEO) efforts of a business or website within a specific geographic area or location.
Auditing local SEO is essential for several reasons, as it helps businesses optimize their online presence and improve their visibility to local customers. Here are some key reasons why you need to audit local SEO:
Increased Online Visibility
Local SEO helps businesses appear in prominent positions on search engine results pages (SERPs) when potential customers search for products or services in their local area. This increased visibility can lead to more website traffic and potential customers finding your business.
Targeted Traffic
Local SEO helps attract highly targeted traffic to your website. When people are searching for businesses or services in their specific location, they are often closer to making a purchase decision. Optimizing for local search ensures that your website is in front of these potential customers when they need you the most.
Trust and Credibility
Local search results often include reviews and ratings from customers. Positive reviews and a high rating can build trust and credibility for your business. On the other hand, negative reviews can be addressed and managed through your local SEO efforts.
Mobile Usage
With the increasing use of mobile devices, people often use their smartphones to find local businesses while on the go. Local SEO helps businesses capitalize on this trend by ensuring that their information is easily accessible to mobile users, including map listings and directions.
Improved User Experience
Part of local SEO involves optimizing your website for a better user experience. This includes ensuring that your website is mobile-friendly, loads quickly, and provides accurate and helpful information. A positive user experience can lead to higher conversion rates and customer satisfaction.
Competition
Many businesses, including your competitors, are likely investing in local SEO to capture their local market. To stay competitive, it's crucial to optimize your online presence and ensure that you appear in local search results.
Google Business Profile (GBP)
Google Business Profile is a vital part of local SEO. By claiming and optimizing your GMB profile, you can provide essential information about your business, such as your address, phone number, hours of operation, and customer reviews.
This information can appear in Google Maps and local search results, making it easier for potential customers to find you.
Cost-Effectiveness
Local SEO can be a cost-effective marketing strategy, especially when compared to traditional advertising methods like print media or television ads. It allows you to reach a highly targeted audience without the high costs associated with broader marketing campaigns.
Local SEO Audit Checklist
Here's a checklist to help you conduct a complete local SEO audit:
Google Business Profile (GBP) Audit
Keyword Optimization
Local Citation Audit
Website Audit
Competitor Analysis
Online Reviews and Reputation
Local SEO Tracking and Analytics Tools
Google Business Profile (GBP) Audit
Google Business Profile is a free tool provided by Google that allows businesses to manage their online presence on Google Search, Google Maps, and Google Shopping.
It can connect with potential customers in their local area and provide them with your business name, address, hours, and some relevant information they would want to know.
When optimized effectively, your Google Business Profile can significantly boost your visibility in local search results, attract more customers, and ultimately drive more foot traffic or online sales to your business.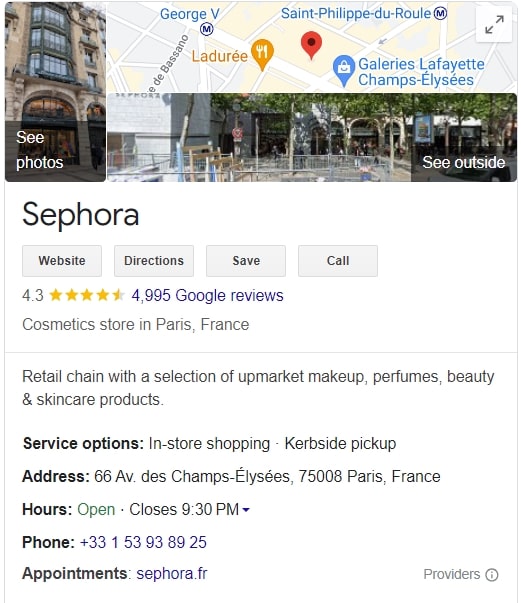 It's essential to claim and verify your Google Business Profile. This process involves confirming that you are the owner or authorized representative of the business. Once verified, you can provide accurate and up-to-date information about your business, including your name, address, phone number, website, hours of operation, and categories that best describe your products or services.
Consistency in this information across all online platforms is critical for SEO success.
Keyword Optimization
Keyword optimization is a fundamental component of any effective local SEO strategy. It's about identifying the specific keywords and phrases that potential customers in your local area are likely to use when searching for products or services like yours.
First off, you can start your keyword research by gaining a deep understanding of your business, its offerings, and your target audience. Consider what makes your business unique and what problems it solves for local customers. This will help you brainstorm relevant keywords.
Then you should start with a list of seed keywords that are broad terms related to your business. For example, if you run provide plumbing services in Los Angeles, you might want to incorporate location-specific modifiers into your keywords like "Los Angeles plumbing," "LA plumber," or "plumbing services near me."
Another tip for your keyword optimization journey is to look at the websites and online presence of your local competitors. Identify the keywords they are targeting and ranking for. This can provide valuable insights into which keywords are relevant for your local area.
Local Citation Audit
Local citations are online mentions of your local business's name, address, phone number (NAP), and sometimes other information like website URLs.
These citations are crucial for local SEO because search engines like Google rely on them to verify the legitimacy and relevance of your business to local search queries.
To conduct a local citation audit effectively, follow these steps:
1. Create a list of all the online directories and platforms where your business is listed. This can include popular platforms like Google Business Profile, Yelp, Facebook, and industry-specific directories.
2. Verify the accuracy and consistency of your NAP information on each platform. Check for any discrepancies, misspellings, or outdated information.
3. Update or correct any inaccurate information on these platforms. Ensure that your NAP details are uniform across all listings.
4. Search for new citation opportunities by identifying relevant directories and platforms where your business is not listed. Add your business to these platforms.
5. Regularly monitor and maintain your citations to ensure they remain accurate and up to date.
Website Audit
Here are some key aspects to consider in a local SEO website audit:
On-Page SEO Analysis
The first step in a local SEO website audit is to assess on-page elements. This includes examining title tags, meta descriptions, header tags, and keyword usage.
Ensure that relevant keywords related to your business and location are strategically incorporated into these elements to enhance local search relevance.
Content Quality and Relevance
High-quality, informative, and locally relevant content is paramount. Evaluate the existing content for its relevance to the local audience. Content should address local issues, events, and interests to engage users and improve search rankings.
Technical SEO Assessment
A technical audit examines the website's structure, speed, and mobile-friendliness. Ensure that the website loads quickly is mobile-responsive, and has an organized site structure with proper internal linking. Fix any broken links, and improve site speed for a better user experience.
Local Schema Markup
Implement local schema markup to provide search engines with structured data about your business. This helps search engines understand your content better and can lead to rich snippets in search results, improving click-through rates.
Local Link Building
Develop a strategy for acquiring high-quality, local backlinks. Building relationships with local businesses and organizations can lead to valuable link opportunities, further enhancing your local SEO efforts.
Competitor Analysis
Competitor analysis involves researching and evaluating the online presence and performance of businesses that are competing for the same local customer base.
By conducting a thorough competitor analysis, you can gain valuable insights into what works and what doesn't in your specific market. This allows you to refine your own Local SEO efforts for better results.
First and foremost, it's necessary to identify your local competitors. These are businesses that operate in the same geographic area and offer similar products or services.
Tools like Google Maps and online directories can help you compile a list of these competitors. Once you've identified them, you can start analyzing their online presence.
One key aspect to examine is their website. Evaluate the design, user-friendliness, and content quality of their websites. Look for the presence of keywords related to your industry and location. Assess their website's loading speed and mobile responsiveness, as these factors can impact search engine rankings.
In addition, pay close attention to their social media presence. Assess which platforms they are active on and the level of engagement they have with their followers. Look for opportunities to differentiate your approach and engage with your local audience more effectively.
Online Reviews and Reputation
Online reviews act as social proof for businesses. When potential customers see positive reviews from others, they are more likely to trust and choose that business. Conversely, negative reviews can deter potential customers.
Google and other search engines take into account the quantity and quality of reviews when determining search rankings for local businesses. Encouraging satisfied customers to leave reviews on platforms like Google Business Profile, Yelp, and Facebook can boost a business's visibility in local search results.
Also, responding promptly and professionally to both positive and negative reviews demonstrates your commitment to customer satisfaction and can build trust with them, leading to better reviews in the future.
Local SEO Tracking and Analytics Tools
One of the key elements of local SEO tracking is monitoring your website's search engine rankings. Tracking the positions of your target keywords in local search results allows you to assess the effectiveness of your SEO efforts. Tools like Google Search Console can help you track keyword rankings over time and identify trends.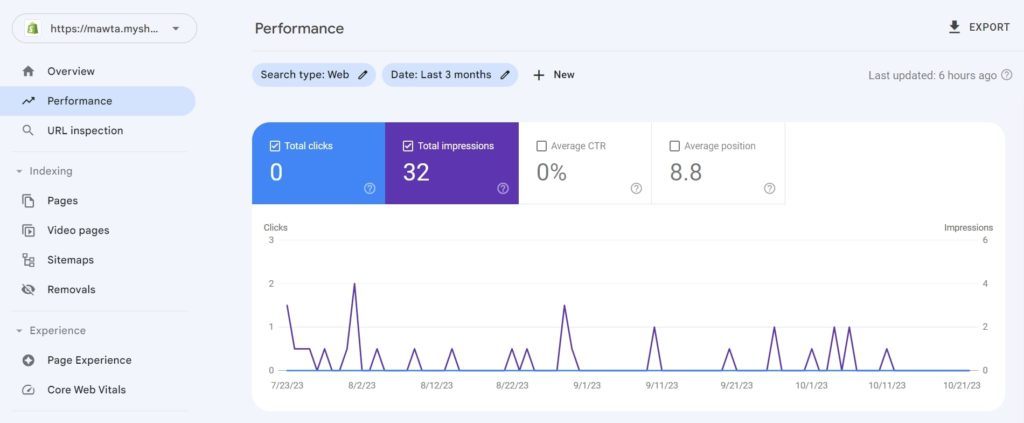 In addition to keyword rankings, monitoring website traffic is essential. Google Analytics is a powerful tool for tracking website visitors, their demographics, and behavior. You can gain insights into which pages are driving the most local traffic, how long visitors stay on your site, and what actions they take. These metrics help you understand the user experience and identify areas for improvement.
Furthermore, you can utilize third-party Local SEO tools to automate and streamline the auditing process. There are several tools on the market that could help improve your business's local online presence and rankings more easily such as Moz Local, SEMrush, Search Pie, or BrightLocal.
Audit Local SEO With SearchPie
If you are running your store on an E-commerce platform, you might have tried searching for a good SEO application that can help optimize your website's SEO performance effectively. For Shopify users, there are tons of powerful Shopify SEO apps and plugins to choose from and one of them is Search Pie: Speed & SEO Booster.

With one of the main focuses being strong local online visibility, Search Pie provides an outstanding feature that can audit your Local SEO performance effortlessly and give you a detailed Local SEO report just by signing into your Google Business Profile account.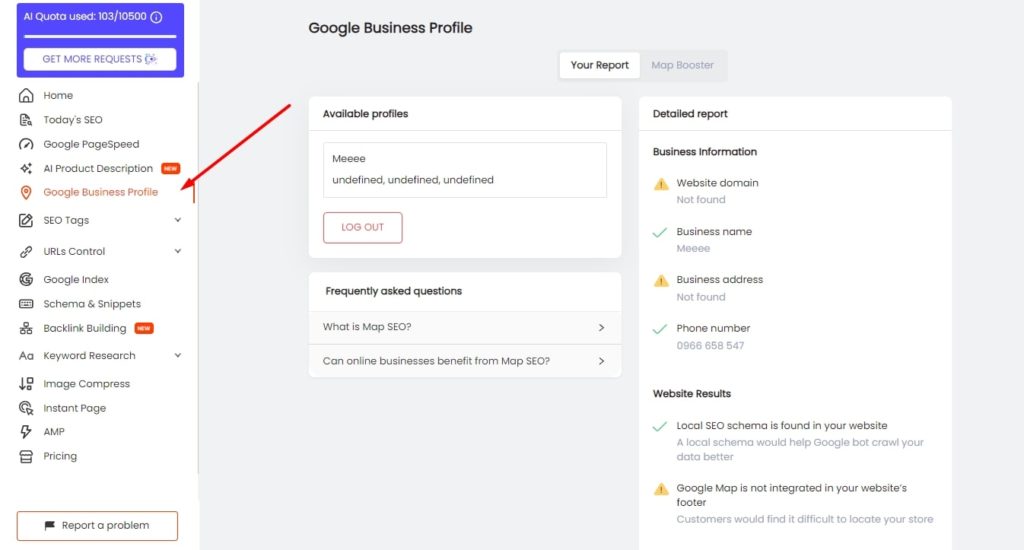 Search Pie's Local SEO audit template contains 3 main categories: Business Information, Website Results, and Google Results.
Business Information: This section ensures your business name, address, phone number (NAP) and website domain have been listed on your Google Business Profile. They are your business's contact information so it's important to know you're not missing them out.
Website Results: Your website is scanned to see if Local SEO schema markup is available and Google Maps has been integrated. Local SEO structured data helps search engines better understand the content on your site and can improve your visibility in local search results, while Google Maps provides an interactive and user-friendly way to display locations, making it easy for users to understand where a place is located.
Google Results: Your presence on Google Maps and the number of local listings are checked in this section. Having a strong presence on Google Maps is significant for local businesses looking to improve their online visibility and attract local customers. It's undeniable that Local citations are an important part of Local SEO efforts as they help search engines verify the legitimacy and location of a business.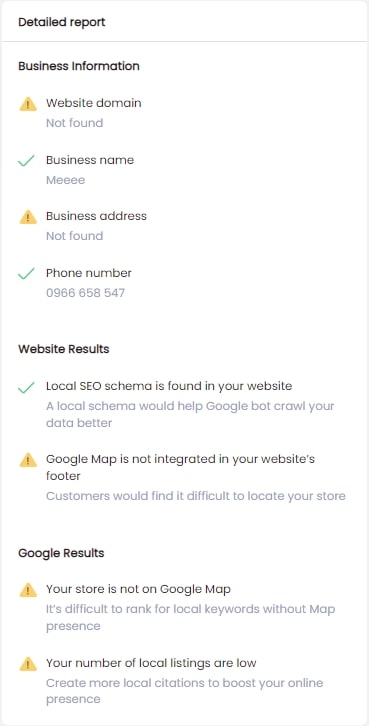 Local SEO Audit: Final Thoughts 
In summary, a local SEO audit is a necessity for businesses looking to thrive in their local markets. It helps you identify areas for improvement, stay competitive, and ensure that your online presence accurately reflects your business in the local context.
By optimizing local SEO effectively, you can enhance your visibility, attract more clients, and ultimately grow your business. It's time to embrace the power of local searches and take the first steps toward reaching your local audience in a digital world.