Product Reviews: Tips And Tricks To Boost Your Shopify Store
In today's e-commerce world, product reviews are gold. For Shopify merchants, these reviews can significantly shape brand perception, drive organic traffic, and enhance user experience. Whether you're a newbie or a seasoned store owner, this guide will provide actionable insights to leverage every review for success. Dive in to discover how to set up, manage, and optimize reviews for a thriving Shopify store.
What Are Product Reviews?
Product reviews are evaluations or feedback given by consumers or experts about a particular product. They can be found on e-commerce websites, blogs, magazines, videos, and other platforms. These reviews provide potential buyers with insight into the usability, quality, advantages, and disadvantages of the product based on the experiences of others.
Here are some characteristics and aspects of product reviews:
Types of Reviewers:

Customers: These are individuals who have purchased and used the product. Their feedback can be subjective, based on personal experience.
Experts: These are professionals in a field who evaluate products based on their expertise. Their reviews are typically more detailed and analytical.

Content of the Review:

Rating: Many reviews come with a numerical or star-based rating system, where the product is rated out of a certain number (often 5 or 10).
Description: Reviewers describe their experiences, detailing what they liked or disliked about the product.
Comparisons: Sometimes, reviewers compare the product with other similar ones in the market.
Images or Videos: Some reviews may also include photos or videos of the product in use.

Benefits of Product Reviews:

For Consumers: Reviews help potential buyers make informed decisions. They can get an idea of the product's performance, durability, and overall value from people who have already used it.
For Sellers and Manufacturers: Feedback from reviews can highlight areas for product improvement. Positive reviews can boost sales, while negative reviews can provide an opportunity to address concerns and improve.

Potential Issues:

Bias: Not all reviews are objective. Some might be overly positive or negative based on individual biases or experiences.
Fake Reviews: The online marketplace sometimes faces issues with fake reviews, where companies pay for positive feedback or competitors post negative reviews to harm sales.
In today's digital age, product reviews have become an integral part of the purchasing process for many consumers. Before buying, many individuals check reviews to gauge the likely satisfaction they'll get from a product.
How Important Are Product Reviews For Shopify Stores?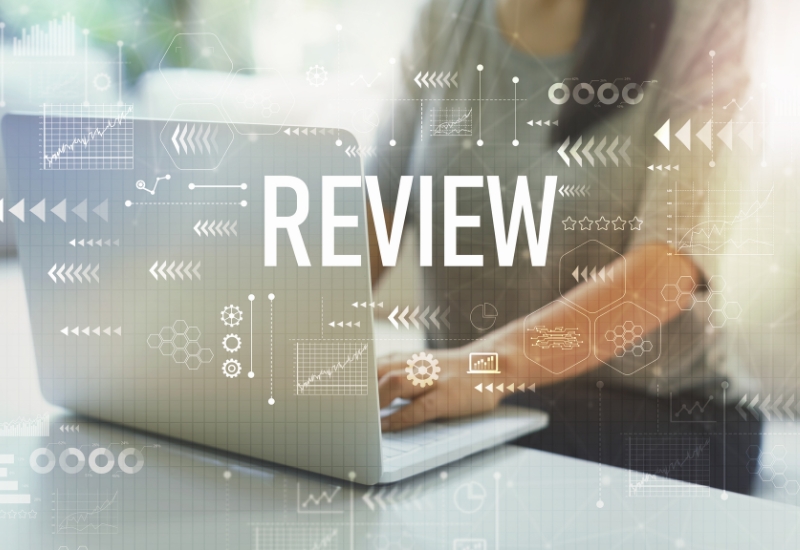 Product reviews have become an integral part of successful online commerce and they are particularly essential for Shopify stores. Reviews are not just responses from customers, they're also valuable marketing tools that can greatly impact a store's reputation, sales, and overall success. For example, a Shopify store selling handmade soaps could see a substantial boost in sales if they have a plethora of positive reviews praising the scent, texture, and quality of their products.
Building Brand Credibility and Trust
Product reviews are a powerful way to build credibility and trust in your brand. They are seen as unbiased and authentic feedback from customers, which potential buyers often trust more than sales pitches or product descriptions. In fact, according to a study by BrightLocal, about 88% of consumers trust online reviews as much as personal recommendations.
For instance, a Shopify store specializing in fitness equipment can gain a trustworthy reputation if it has numerous positive reviews from customers praising the effectiveness, quality, and value of its products. This creates a sense of reliability around the brand, encouraging new customers to make a purchase.
Enhancing User Experience and Decision-Making
Reviews can significantly enhance the user experience on your Shopify store. By presenting real feedback from previous buyers, you're providing valuable information that can assist potential customers in making informed buying decisions. Reviews can cover aspects such as product quality, delivery speed, and customer service – all of which are key considerations for customers.
According to a report by Medill Spiegel Research Center, products with reviews have a 270% greater likelihood of purchase compared to products without reviews. Clearly, even a few reviews can make a product more enticing to a potential buyer.
Let's say your Shopify store sells vintage clothing. A customer looking to buy a retro dress may find a review stating the accurate sizing and high-quality material, which will help in their decision-making process. In essence, product reviews offer valuable insights and experience sharing that could potentially convert a visitor into a buyer.
Improving SEO and Organic Traffic through User-Generated Content
User-generated content (UGC), like product reviews, can significantly improve your store's SEO and organic traffic. Search engines value fresh, unique content, and product reviews can provide just that. Each new review is seen as an update to your site, keeping it relevant and improving its ranking on search engine results.
For instance, a customer of a Shopify electronics store might leave a review with the phrase "best noise-canceling headphones". This is a common search phrase, so the review could boost the store's SEO for that particular keyword, making it more likely to appear in search results and draw organic traffic.
So, product reviews not only build trust and improve user experience but also give your Shopify store an SEO boost. They're a must-have for any online store looking to maximize its success!
How To Set Up Product Reviews on Shopify?
Utilizing Shopify's Product Reviews App

Shopify offers a valuable tool for e-commerce sites in the form of the Product Reviews app. Once you've installed this application from the Shopify app store, it provides the ability to seamlessly embed review forms directly onto product pages.
Not only can users submit their feedback, but businesses can also showcase review score badges on product and collection pages to provide potential buyers with quick insights into product quality and satisfaction levels.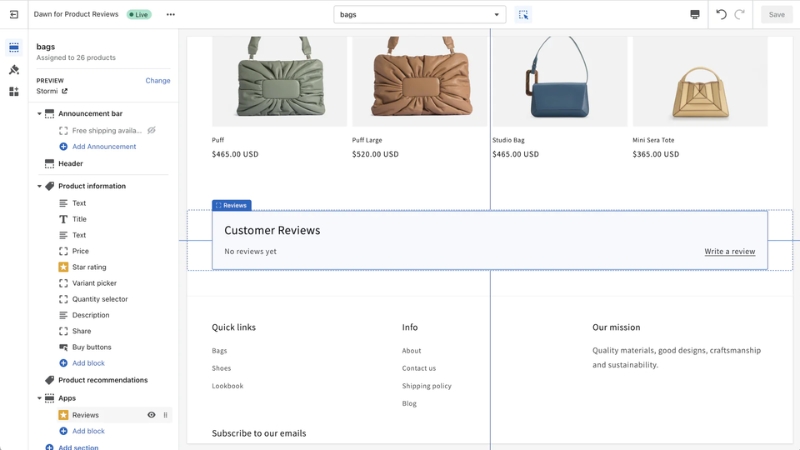 For businesses operating with the Online Store 2.0 themes from Shopify's Theme Store, they have a buffet of options on how to display reviews:
Dedicated Review Sections: To add reviews as a standalone section, navigate through Shopify Admin > Online Store > Themes. After selecting the desired theme, click 'Customize' and then proceed to the intended product template. An 'Add section' option will appear, and within the 'Apps' dropdown, the 'Reviews app block' can be selected, positioned as needed, and then saved.
Embedded Review Blocks: For a more blended look, reviews can be added within the primary product section. The pathway is similar: Shopify Admin > Online Store > Themes > Choose theme > Customize. From there, choose where you'd like the block, click 'Add block', and in the 'Apps' list, you'll find the 'Reviews app block'. As with the section, this block can be repositioned to best fit the layout.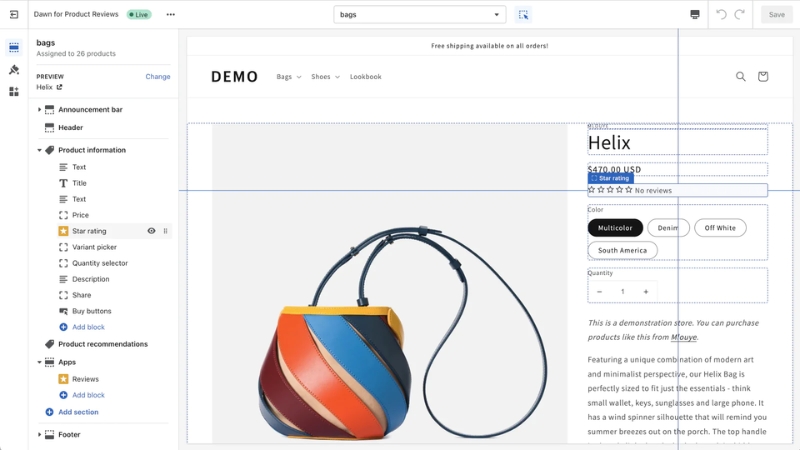 Furthermore, the app boasts the feature of star ratings. These are not just mere aesthetics but a summarized visual cue for potential buyers to gauge product quality swiftly. The procedure to add star ratings mirrors the steps for adding review blocks, but instead, one would select the 'Star rating app block' from the 'Apps' dropdown.
Integrating Third-party Review Apps
If you're looking for more advanced features, like photo or video reviews, Q&A sections, or enhanced SEO benefits, you might consider third-party review apps. These often come with additional features and integration options, though they might also come with a cost.

User-generated content (UGC), including ratings and reviews, can be used to provide social proof for eCommerce brands. Yotpo offers a platform that enables these brands to gather product reviews with the assistance of AI-powered widgets. These reviews can be integrated and displayed on social media and search engines like Google through Yotpo's partner integrations.
Furthermore, Yotpo Reviews can be connected with SMS, loyalty, and subscription services. The platform also supports Google Seller Ratings and Google Shopping Ads, offers customization options for the review widget, allows the collection of photo and video reviews, and features Smart Filters to display pertinent content to enhance buyer confidence.

Judge.me enables you to easily import reviews from AliExpress to your Shopify store. By installing the app or Chrome extension, you can select which Shopify product gets reviews, and input the AliExpress URL.
You can also customize your imports using various filters, like selecting reviews with photos. For efficiency, the app allows you to set up unique import settings and run several at once. These reviews can be directly integrated with Judge.me, or you can export and use them with other review apps.
How To Amplify Product Reviews For Your Shopify Store?
Product reviews are a powerful tool for your Shopify store. They influence potential buyers' decisions, with a whopping 93% of consumers saying that online reviews impact their purchasing choices. But it's not just about having reviews; it's about maximizing their effectiveness. So, how can you amplify these?
Encouraging Genuine Feedback from Real Customers
Genuine reviews from actual customers can significantly enhance your store's credibility. Incentivize customers to leave reviews by providing an intuitive review system, coupled with perks like discounts or loyalty points for their next purchase. For example, you might offer a 10% discount on their next order as a thank you for leaving a review.
Ensure to have a transparent policy on reviews, reassuring customers that all feedback, positive or negative, is welcomed and respected. This approach can lead to a more active reviewing community, which according to studies, can boost your revenue per each customer by up to 62%.
Timing: When and How to Request Reviews
The timing of your review requests can greatly influence the response rate. Generally, it's a good practice to ask for a review a week or two after the product has been delivered—giving customers a chance to use your product.
You can ask for reviews through different channels, including email, social media, or even a note in the product package. A Shopify store selling handmade soaps, for example, might include a small, friendly note in the package encouraging the customer to leave a review and share their experience on social media.
Crafting Compelling, Personalized Review Request Emails
A compelling, personalized email can make a difference in encouraging reviews. Address the customer by their name for a personal touch. A simple, "Hi [Customer's Name], we hope you're enjoying your new [Product Name]…" can make the email feel much more personal.
Thank them for their purchase, explain how easy it is to leave a review, and possibly what they stand to gain, like being entered into a monthly raffle for every review left. Including a clear call-to-action button or link that takes them straight to the review form can increase the likelihood of them leaving a review.
Managing Negative Product Reviews
While daunting, negative reviews are an opportunity for growth and improvement. A study found that businesses that respond to negative reviews saw a 33% turnaround in the sentiment of those reviews.
Start by acknowledging the issue, apologizing, and offering a solution. If a customer leaves a 2-star review saying that the delivery was delayed, respond with something like, "We're really sorry to hear about your experience. We strive to deliver all our packages on time, and we understand how disappointing a delay can be. Please reach out to our customer service team with your order number, and we'll make sure to make it right."
By engaging with your customers, improving your products and services based on their feedback, and handling negative reviews well, you can enhance your Shopify store's credibility and boost sales.
How To Optimize Review Display for Conversions?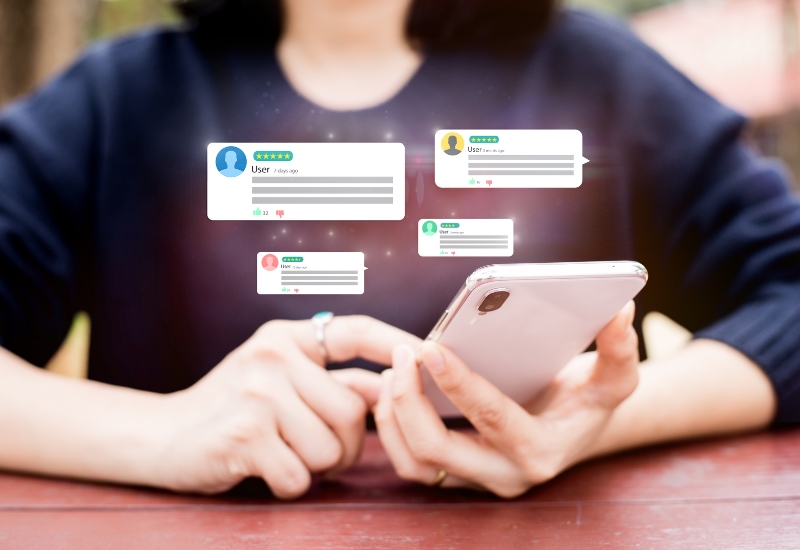 Boosting conversions is a key goal for any eCommerce business. One proven strategy is to optimize the display of customer reviews. Effectively showcased reviews can strongly influence purchasing decisions. Let's explore how you can maximize the impact of customer reviews.
Highlighting top reviews on product pages and the homepage
Begin by showcasing the best reviews on your product pages and homepage. Prioritize those reviews that offer in-depth insights and personal experiences. This gives potential customers a clear idea of product benefits and its relevance to their needs.
On product pages, pin top reviews to the top of the review section or incorporate them into the product description. On the homepage, consider a "featured reviews" section or a scrolling ticker of high-rated reviews. This strengthens the credibility of your offerings and encourages potential customers to explore further.
Using photo and video reviews for a richer experience
Next, capitalize on multimedia to enrich your user experience. Encourage customers to add photos or videos to their reviews. Visual content can vividly demonstrate the product in action, emphasizing its quality and establishing an emotional connection.
Consider a prominent gallery for photo and video reviews on your website. Alternatively, intersperse them with text reviews to create a vibrant and engaging mix of content.
Integrating reviews into marketing campaigns and social proof
Reviews serve as compelling social proof, representing real users who appreciate your products. Include them in your marketing materials – email newsletters, social media posts, or print campaigns. This presents your positive reviews to a wider audience.
In addition, leverage them in testimonials on your website or in user-generated content campaigns. Positive reviews indicate that your products have been validated by a community of users, enhancing trust among new customers.
Using Reviews for SEO Boost
Lastly, customer reviews can boost your SEO. Frequent user-generated content, relevant keywords, and increased engagement can all improve search engine rankings. Request customers to leave reviews, and prompt them to use relevant keywords, like product names or types. This can enhance your website's visibility.
Don't forget to respond to reviews. Not only does this demonstrate that you value customer input, but it also increases your website's keyword density. Well-managed reviews can significantly enhance your website's SEO.
Wrap Up
In the ever-evolving landscape of e-commerce, the voice of your customers, captured in product reviews, stands as a testament to your brand's credibility and value. By harnessing these testimonials effectively, Shopify merchants can not only elevate their store's reputation but also drive tangible growth in traffic, conversions, and trust.
Whether you're just beginning your Shopify journey or seeking to refine your approach, remember that every review is an opportunity — a chance to engage, learn, and adapt. So, keep listening, keep optimizing, and watch as your Shopify store reaches new heights of success. Until next time, happy selling!